Welcome to the sixth part in our series of 'Behind the [screens]' an intro into the worlds of our super talented team here at FOTW and a little bit about them and what life looks like in lock down. Marlon Griffin our Creative Director is up next to share his thoughts…
Name: Marlon Griffin (Creative Director)
Working for FOTW since: 22/02/2016
How long have you worked at FOTW?
Just over four and a half years.
What's your favorite piece of work to date at FOTW that you've worked on?
That's a tricky one as there are so many projects that I could mention for different reasons.
I really enjoyed working on the Lego Batman Adverts for Sky Broadband.
Having such a rich character like Batman to work with was great fun (I was an avid DC comics Batman collector as a teen – I still have crates of them sealed in plastic in the loft). It was awesome that we could work with Will Arnett (Big fan of Arrested Development) to also voice over our script.
Whose work inspires you / What Motion Designers do you admire and how does their work influence your work?
I get inspired by things I see & it can come from anywhere. Because of this I tend not to use headphones when I'm out and about as I find it mentally takes me away from the world around me – I might just see or hear something that is the solution to 'that Brief' we're trying to solve.
With regards to peoples work the list is longer than my arm, but at the top would be Stanley Kubrick, Frank Budgen, John Hegarty, Jonathan Glazer, Tom Carty, Walter Campbell.
What made you decide to get involved in the creative industry 
When I was younger the adverts were better than the TV shows. Epic engaging narratives told in 30's – I loved these – There was always a buzz around the latest Levi's or Nike advert. I used to storyboard up my own ideas for adverts for fun. It's what inspired me to start making short films on a Super 8mm camera whilst studying Graphic Design – in the end I graduated not with a Graphics Portfolio but a Showreel.
How has COVID changed the way you work?
I seem to be sat down more at my computer – which isn't great for a man in his mid 40's. As for the work, it's not really been too hard working remotely with each other for most things. Even when in the office a lot of quick coms are shared via email/Slack a lot of the time anyway. Nothing beats a good face to face brainstorm, pencils and stuff stuck on the wall – but other than that, I think it's actually been quite seamless.

What's the best part of working at FOTW?
The people. When we recruit it's as important, we hire candidates that are a cultural fit as well as talented.
We have a great team, no ego's, everyone has a voice, and everyone has each other's back, wiling to roll up their sleeves and get stuck in for the greater good.
How do you stay current with the technology and processes in the industry?
From a creative stand-point – I think nothing beats a pencil & paper! I like keeping abreast of what is happening in the industry through creative sites – I love it when we see clever creative campaigns that have used tech in a new clever way.
Redshift or Octane – What's your preference and why?
Oh definitely Redshift. (I don't get anywhere near them in reality, that's for our savvy motion chaps)
Favorite Film?
The Shining – There's just so many layers to it. Every time you watch it, there seems to be new things to notice.
Oh and as for those Steady Cam shots. I've also always wanted that Geometric Hotel carpet in my house.
(I have managed to acquire some socks with it though)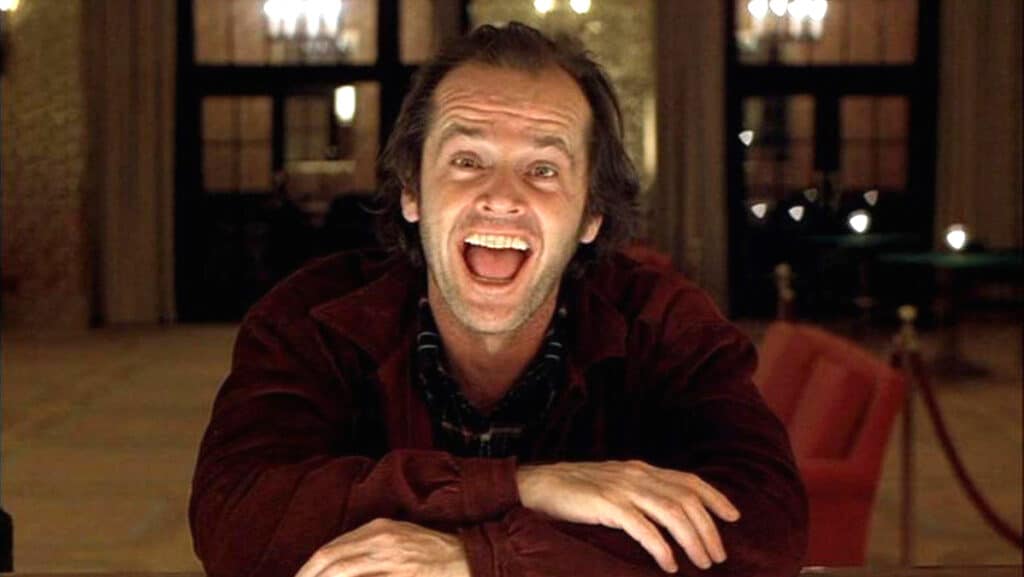 Any advise for the next generation of Creative/ motion designer?
For Creatives – I've banged on a bit about pencils & paper – but I mean it. It's so easy these days to create something that looks slick and polished that stage one 'THE IDEA' can almost get skipped.
Don't take no for an answer – keep knocking on doors until you get your foot in.
Stay curious – Watch things you like, as well as things you don't, read things that are smart as well as things that are trashy …and don't always have your head down looking at a phone with ear buds in.
Like what you see?
If you fancy a chat about what we do, give us a call on 01582 881144 or drop us an email hello@falloffthewall.com. We'd love to hear from you!