This article was written by Zoë Bishop
Creative human @ FOTW
Mix it up!
With lockdown gradually lifting we're all feeling thirsty– thirsty for parties, people, drinks and making up for lost time! So, what better time to launch a social piece for the ultimate Summer tipple – PIMM's?!
The idea was to celebrate 'Mixing' again…Mixing with friends, and the mixing of the delicious fruits, mint sprigs and ice cubes that go hand in hand when preparing the perfect PIMM's this summer.
PIMM's have such a strong brand identity, immediately synonymous with fruity, British Summer fun. There's an intentionally eccentric vibe, which has become quite iconic.
See a couple of examples of their social stills below.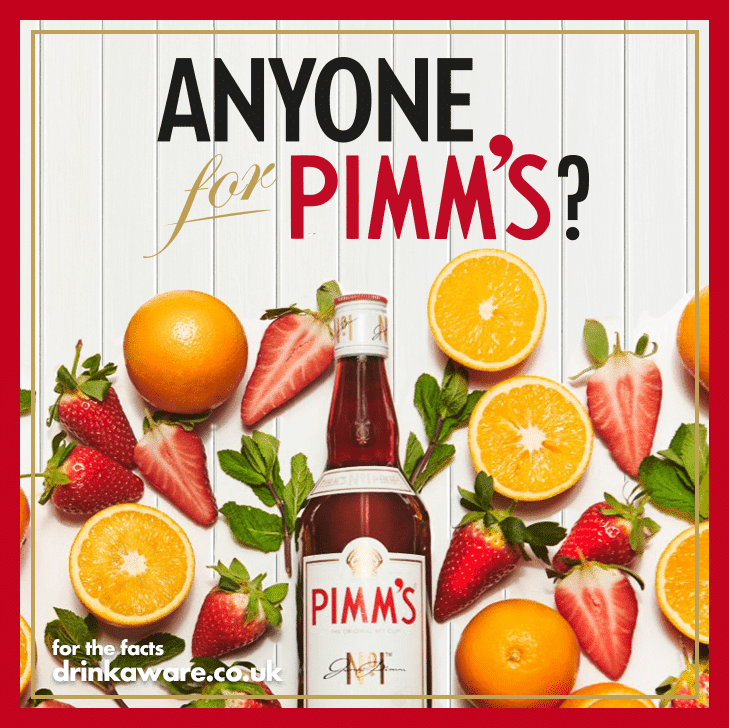 You can't help but smile!
We wanted to take this charming essence through to our playful motion piece. In the past PIMM's had used stop motion animation on their social channels, which is truly lovely and works a treat. This gave us all the more drive to try an alternative CG route and see what we could create with them in mind.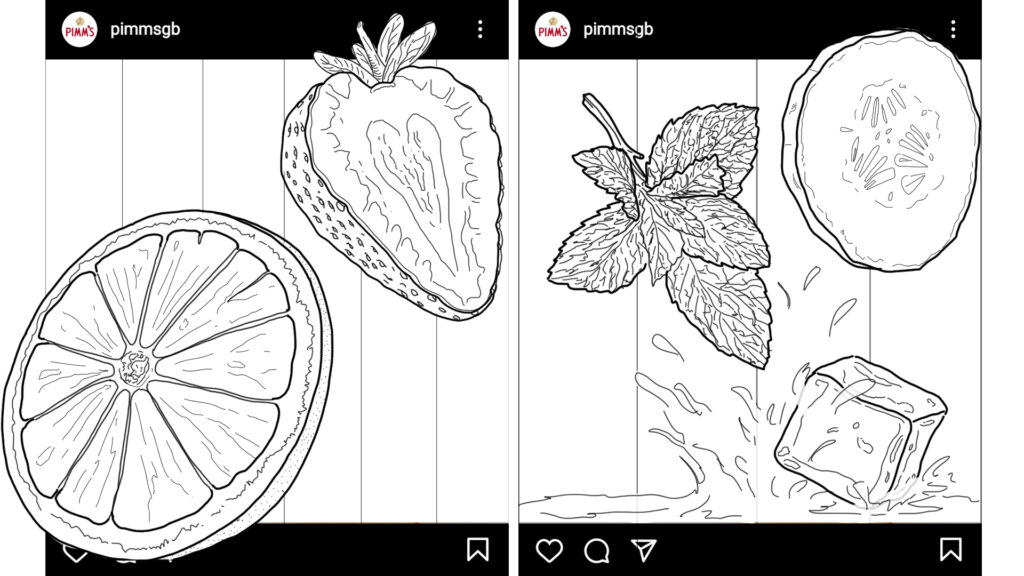 For this the storyboard had to be tasty…We wanted to create a series of close-up slow-motion shots of the fruity mix, capturing the essence of preparing the PIMM's, giving the viewer a visual feast for their taste buds. Destination – Salivation Station!
We begin with some delicious close ups of the various garnishes falling in slow motion.
The occasional dewy piece of fruit (or cucumber) could overlap outside of the social post template, giving the impression of the fruits falling into the foreground of the social feed.
In frame 2 you can see the ice cube hitting the PIMM's surface, sending a splash of PIMM's upward with the impact. A mint sprig and cucumber follow into the glorious Summer beverage.
By frame 3 we reveal the source of the golden liquid to be a PIMM's jug accompanied by a lovely sense of familiarity. And finally frame 4 shows the lock up – the all too recognisable PIMM's bottle beside two full glasses and a jug – for refills!
This was where our copy line lands with the typical PIMM's bold/italic font combination. This had to be a short line, punchy and to the point, a light, positive and conclusive statement. It had the embody the feeling of a contented 'Ahhhh…' as you settle into your chair in the Sun, PIMM's in hand, friends around the table (-or on your own with the dog, there's no judgement here!) With the use of the word 'mixing' to describe seeing extended family and friends, it felt only natural to associate that with the mixing of PIMM's. 'Cheers to mixing with friends' gives that sense of resolution and satisfaction from the unique challenges of this past year. We wanted to associate that sense of relief and joy with PIMM's, and what better way to celebrate and catch up with the people we love!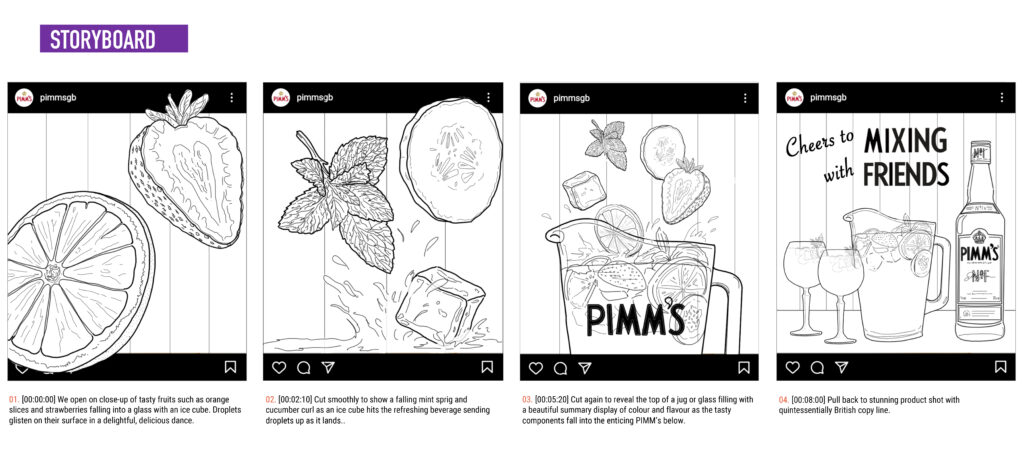 Now it was over to Mark one of our motion magicians to bring it all to life! Firstly, he modelled the separate components in C4D. We actually purchased the PIMM's bottle in the end, to guarantee accuracy so he could focus on the falling fruit and liquid simulation. Mark used Real Flow to create the PIMM's drink and rendered it all in Red Shift.
What jumps out straight away are the beautiful, realistic textures of the glass and ice cubes. Obviously, it is work in progress, so the splashing is to be added at the next stage!
The main challenge from Mark's point of view has been getting the liquid splash to the correct extremity – we want enticing excitable splashes and not a tsunami of PIMM's…There are so many test settings in Real Flow for accuracy, so it's a case of playing around with the drag and turbulence to get a realistic splashing response.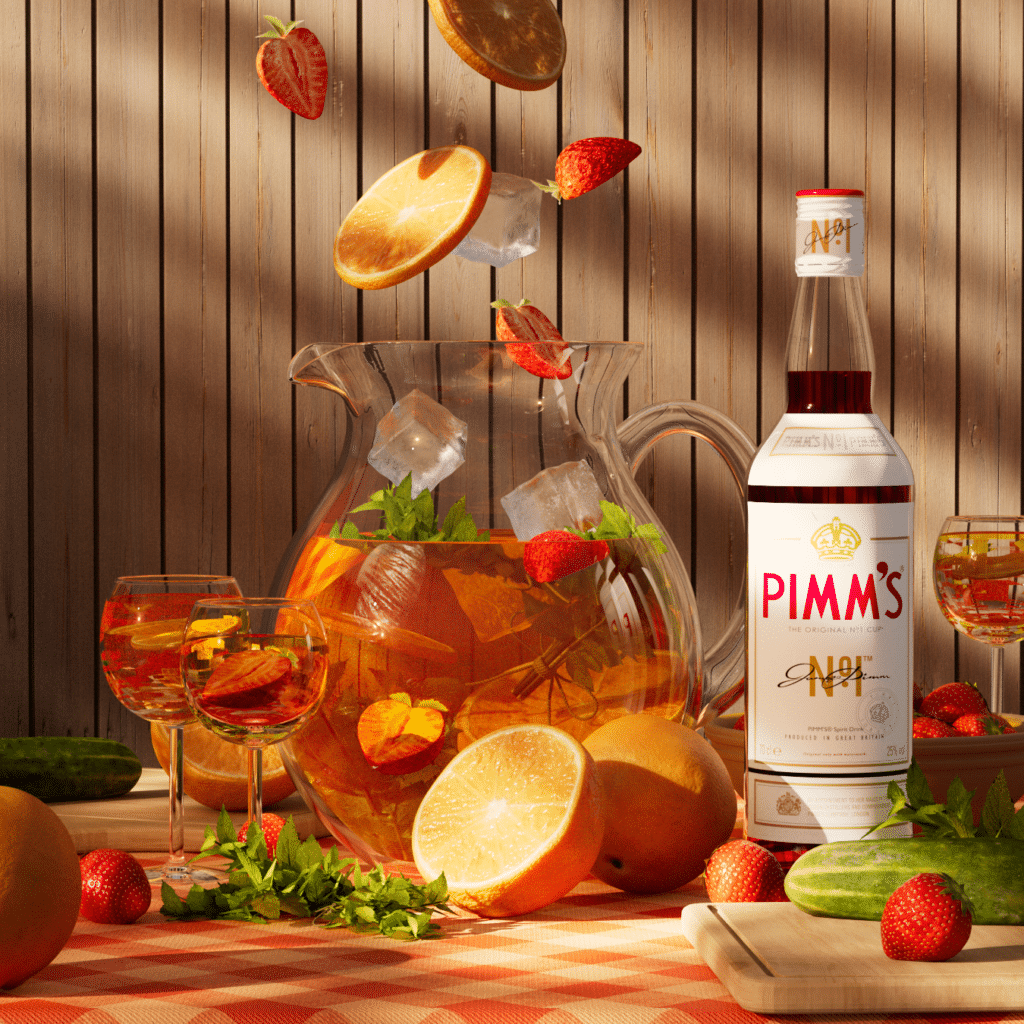 I do love the summery picnic vibe of the scene above and the attention to detail really makes that happen. Details like condensation on the glasses and jug will add that extra refreshing feeling on the final piece.
I personally really can't wait to see some close-up droplet action!
Mark has said that so far, it's a super fun piece to work on and it's easy to see why – he had this to say:
'It's definitely a challenge which I love to get stuck into, but also it's just a really feel-good summery project to focus on and to be honest, working on the fruit and mouth-watering visuals, it really makes me want a drink!'
I like to think that's a good sign for what's to come with the final piece – (rather than an expression of how tricky the job is!) The whole intention of this short, juicy motion piece is to tantalise the senses and get people craving PIMM's, so it's great to hear that it's working on our own team!
I'm definitely feeling the Summer PIMM's buzz, sat in the garden writing this article.
No PIMM's to hand unfortunately! Can't wait to show you guys the final piece.
Cheers to mixing with friends, once again!
Like what you see?
If you fancy a chat about what we do, give us a call on 01582 881144 or drop us an email 
hello@falloffthewall.com
. We'd love to hear from you!