This article was written by Zoë Bishop
Creative human @ FOTW
Feeling saucy
When choosing our extracurricular 'playtime pieces', we try to always do something we've not done before. Whether that's in technique, aesthetic, genre or software, exploring is key to making stand out creative work.
So, for this latest piece it was down to Matt, Jase and Char to bring the heat with some bespoke 3D motion combined with 2D stylised animation. Their aim? -To create something bold and standout to stop social scrollers in their content-hungry tracks. It was important to find brand and a product with that same strength in character, presence and flavour to compliment this saucy art direction.
Flying Goose sriracha chilli sauce stood out as a fun opportunity…The bold brand full of character, the product packed with power, and the spicy potential to execute something a bit different.
The Flying Goose also appealed because of their strong social presence with lots of bright and beautifully photographed stills of their products and accompanying dishes. From their research the team knew that an animation would be new territory for the brand's social feed, and a tasty development on their already strong brand. See below for a little taster of their Instagram feed.


As part of our creative journey, we always gather references which help define the artistic direction – whether it's a combination of visual elements or one visual that really helps hit the nail on the head. We'll also mock-up visuals – anything that helps to execute the art direction at this early but crucial stage. So, with that in mind we turned to some finger-licking inspiration! It probably goes without saying that we're fans of KFC (isn't everyone?) -we love their chicken and their ads. So, from a reference point of view it was 'What the Cluck?' that stood out for the inspiration. See some screenshots of the epic ad below.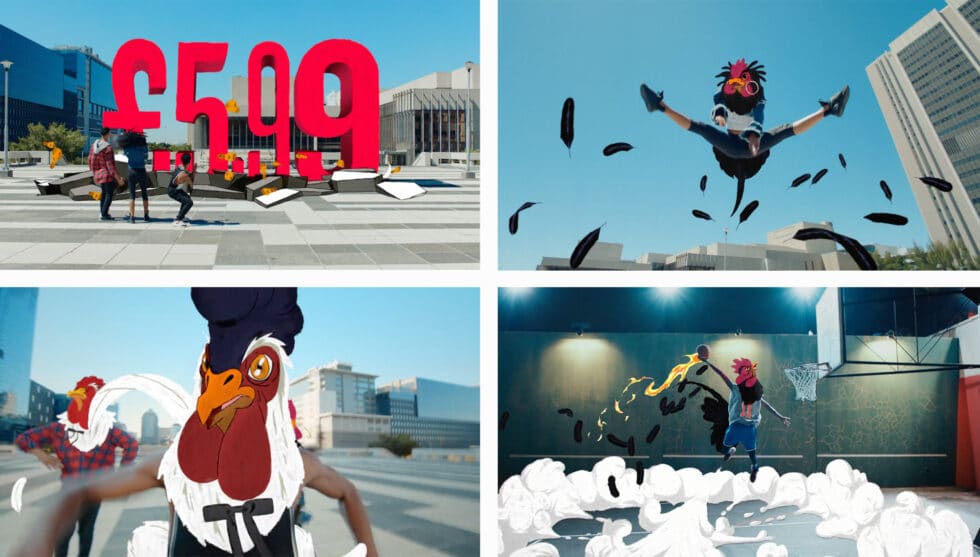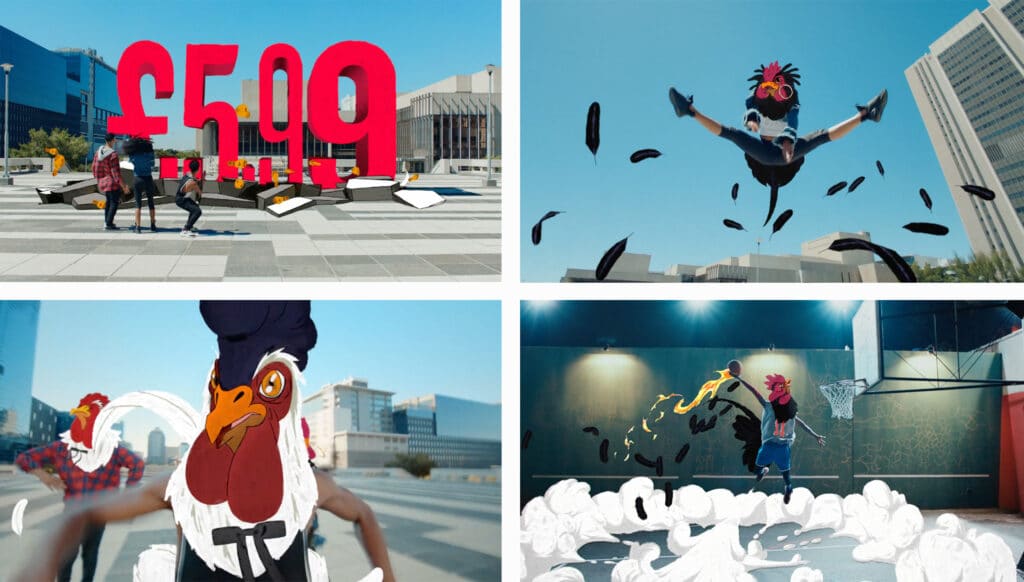 Now, I know what you're thinking – chicken / goose, not a big leap guys… but there will actually be no goose featured in this piece, despite it being for Flying Goose! It was more to do with the combination of 3D (in this case, live action) and 2D. The illustrative cartoon style is ideal for a product that packs a bold punch, just like Flying Goose chilli sauce.
Now, armed with a product and a creative vibe, it was time to storyboard the flow of the animation. In this case it was a case of keeping things simple, spicy and strong. See scamped frames below. (A 'scamp' is a rough drawing of a concept…)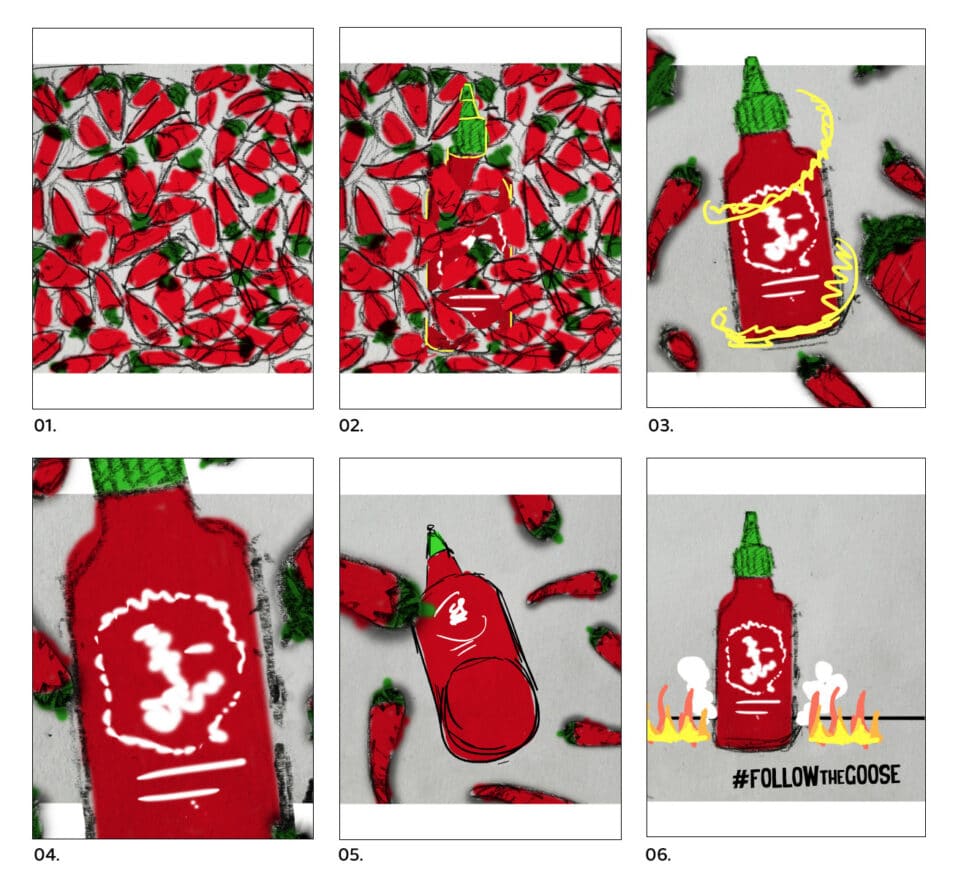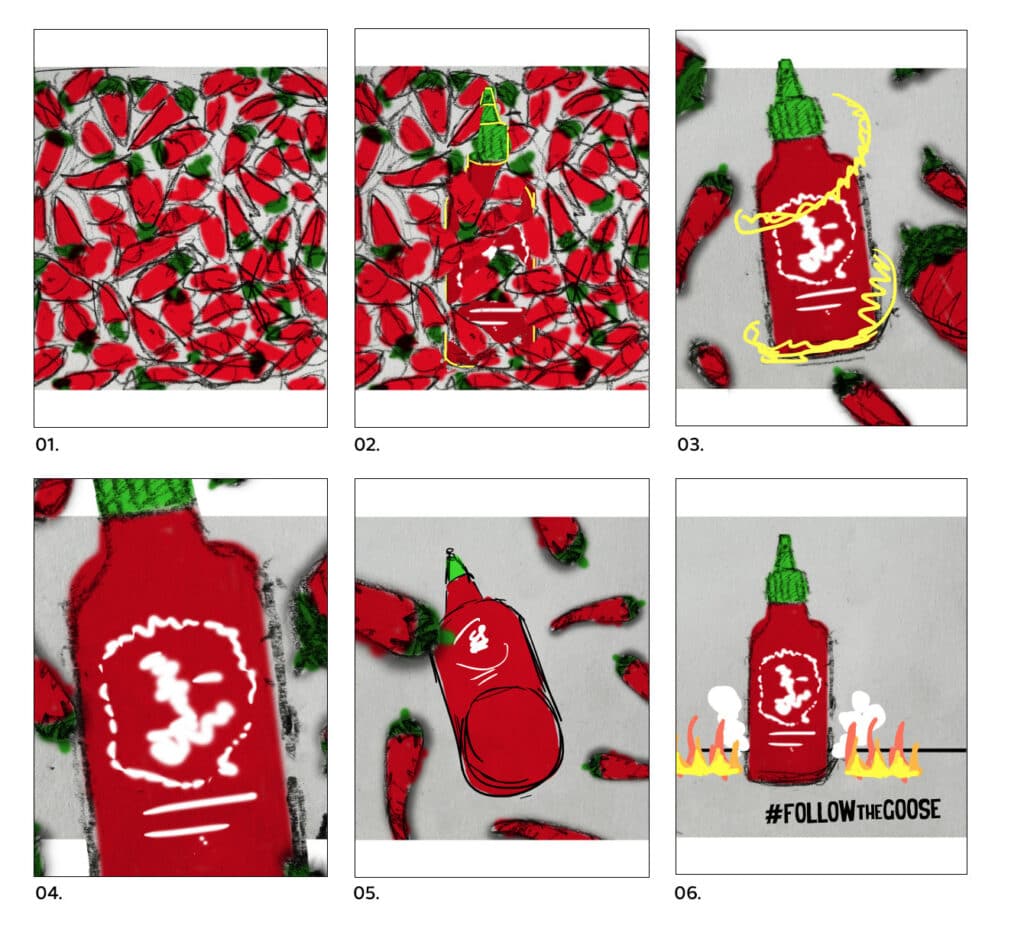 What's great about this storyboard is the vivid colours. A lot of the time we keep them in black and white, so it doesn't distract from the core of the idea when showing clients. But with Flying Goose, they have an iconic set of colours; predominately red and green with some yellows and orange for good fiery measure, so it felt only right to really bring out those colours as a key part of the early-on execution. The 4×5 social framing also works really well with the shape of the bottle, which is another thing to always be considered with different formats and outputs.
The concept uses the idea of volcanoes –the ultimate source (sauce…?) of natural heat. The iconic sriracha sauce bottle emerges through a vibrating pile of gorgeous chilli's, much like lava erupting from the ground. The hot sauce bottle will then spin dynamically in the air as the chilli's fly around in a burst of power, reflecting the intense taste experience of Flying Goose sauce. It lands with a boom as a cartoon flame animates across the ground. This will lead the eye across the brand hashtag of #followthegoose as seen on frame 6. This punchy hashtag call to action is all that's needed with such strong visuals and the logo on the bottle. It aims to excite serial scrollers in a quick, heated display and give viewers an easy way to engage with the brand and further their saucy experience!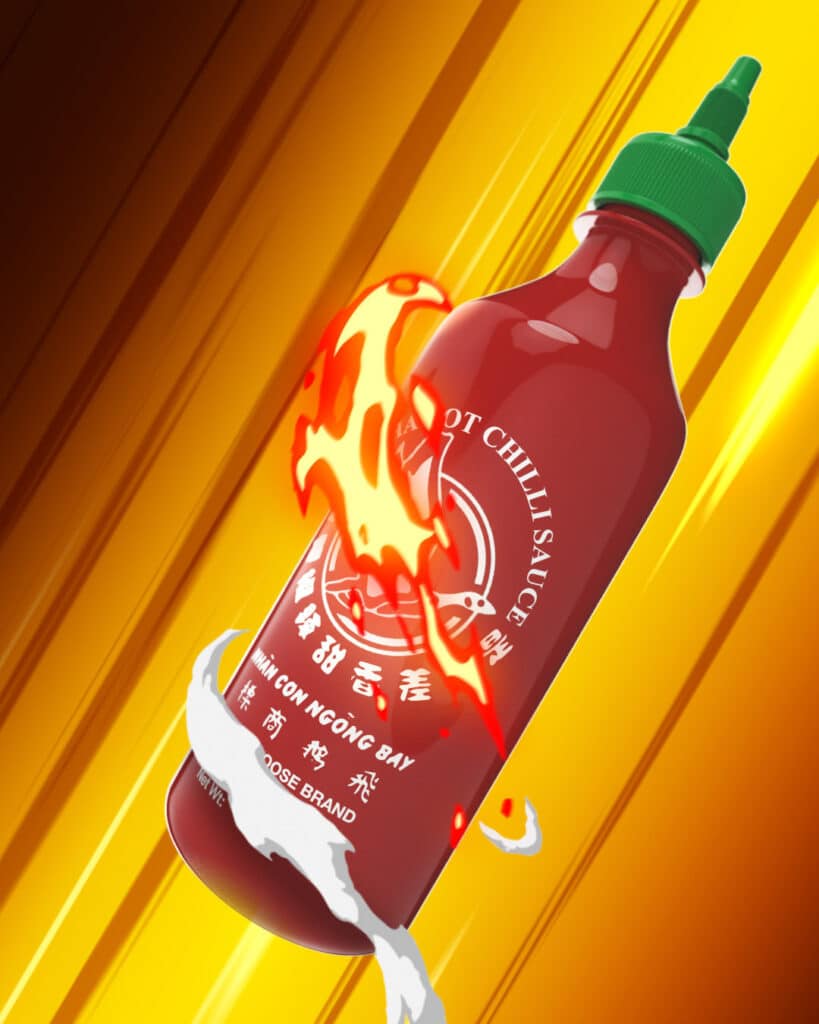 I love the animé inspired styling on this execution so far. It really helps to communicate the sauces fire-y character. You can really feel the dynamic movement of the bottle as it flies through the air.
Jason has also modelled individual chillies to accompany this bespoke 3D bottle. The chillies are the hero ingredient, so it was important to add an extra diversity and natural look to the 3D rendered elements. When it came to the process Jase tried multiple techniques using particle systems and x-particles. But in the end, he went with C4D's rigid body dynamics for the win.
I hope this article has tantalised your tastebuds in prep for the reveal of the final piece! I have no doubt the guys are going to bring the fire with this one…

Like what you see?
If you fancy a chat about what we do, give us a call on 01582 881144 or drop us an email 
hello@falloffthewall.com
. We'd love to hear from you!