DRIVE BRAND AWARENESS TO DELIVER NEW APP DOWNLOADS.
Oddscheckers app focuses on better and more odds.
Oddschecker was launching a new app with an increased focus on better and more odds. We needed to generate awareness and excitement around the launch of the new app.
The Brief
The challenge brought to us by Oddschecker was to clearly demonstrate their fantastic app, which quickly allows punters to compare all the best odds, on the bets they wish to place.
By targeting football fans, a new demographic for them, we were talking to customers who want the ease of being able to review odds and bet directly in one single app.
The Strategy
The proposition allowed us to show how the app is bursting with the best odds. This was a huge drawcard for punters as the new news of the app searching all bookmakers for odds took the Oddschecker app to the next level.
The BIG idea
The idea comes from the USP that Oddschecker app uses all the top bookmakers, to help you find the best odds. With all the wealth of data all packed into one app, we developed our concept based around the ability to quickly have insight into the best odds.
For this creative, we get to see the reactions of a new user as they experience the might of the app for the first time, in the calm safe setting of a testing lab. We visually show the odds, bookmaker logos and sporting icons flying out of the app and invigorating the user with full force!
• Creative
• Live Action & Directing
• Pre & post production
•CGI & animation
•ClearCast Management & Delivery
Channels and Deliverables

Oddschecker wanted a bold TV ad that could stand out in a busy industry and we developed a route that helped their product literally burst out of the screen.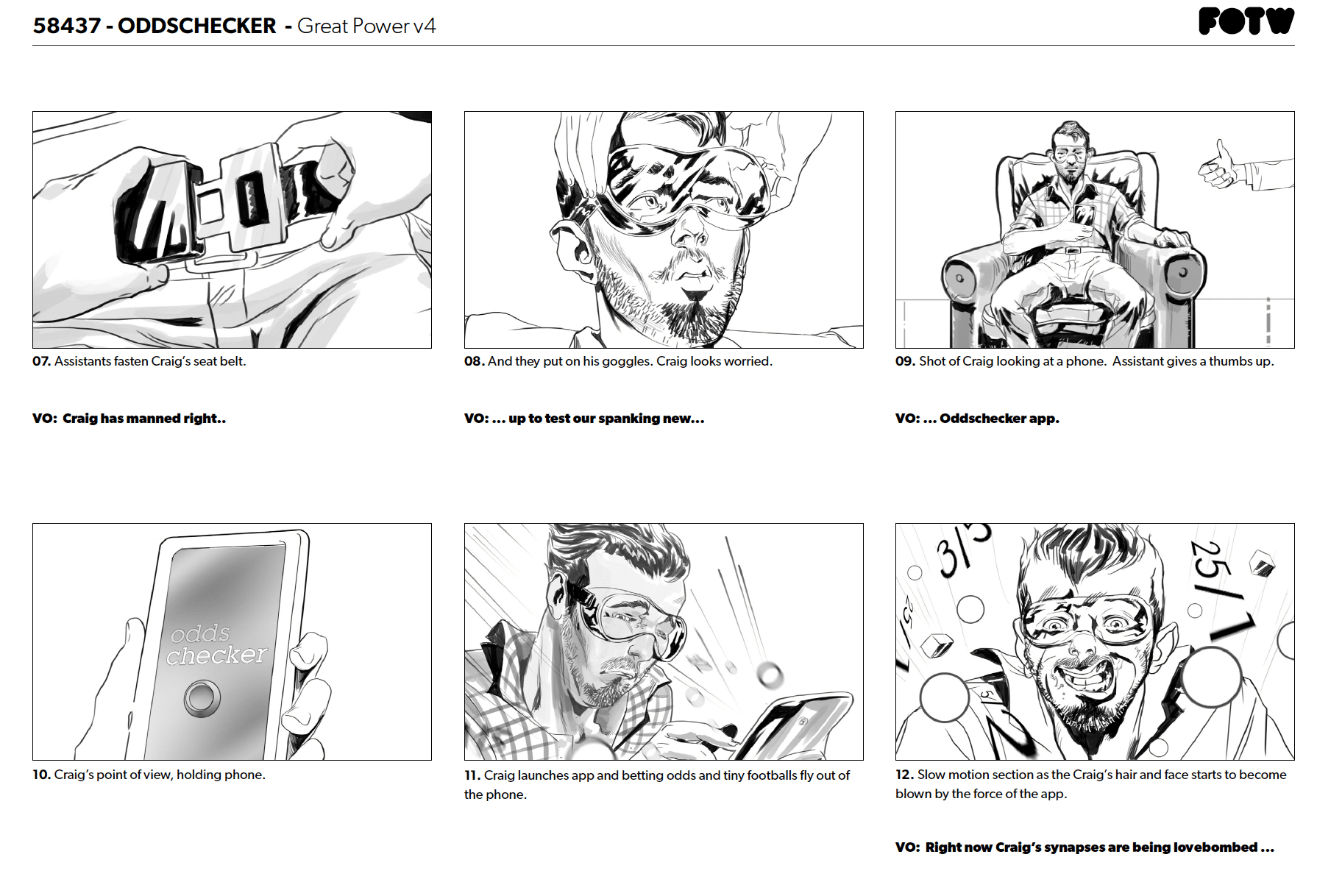 From initial concept and visuals, editing and 3D animation, through to grading and delivery, we developed this project with a fantastic in-house team.
With a brilliant collaboration with Kode, the live action elements were brought to life. In a one-day shoot, all aspects were shot in a green screen studio with key props allowing them to be seamlessly integrated with our CG elements.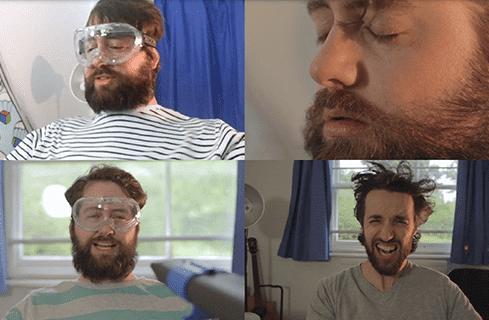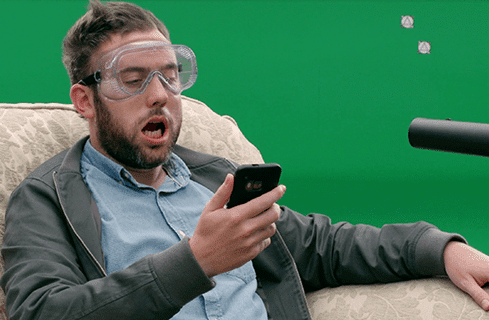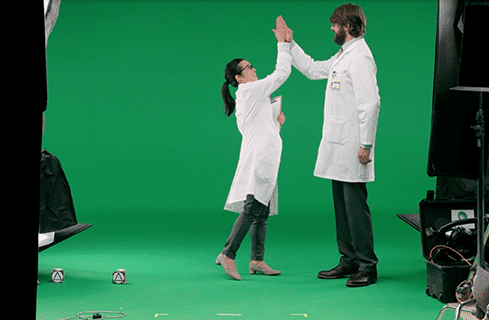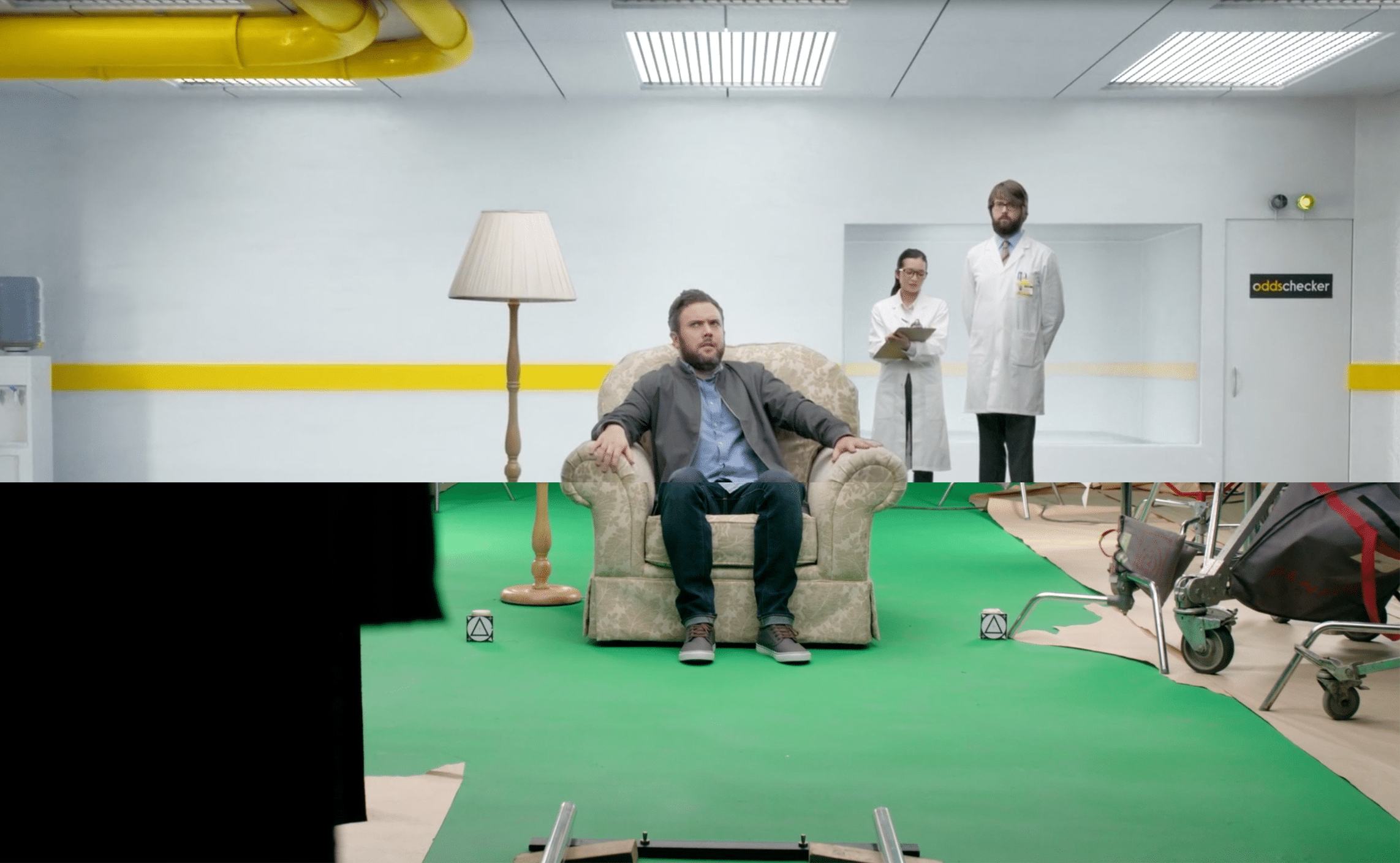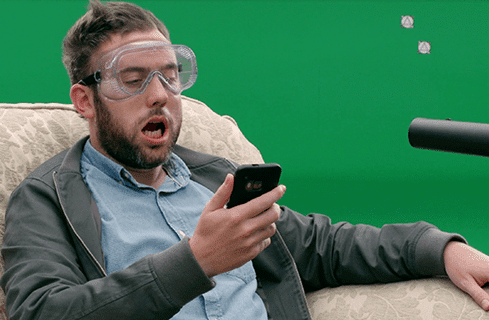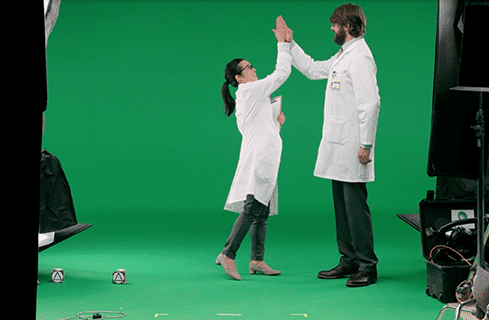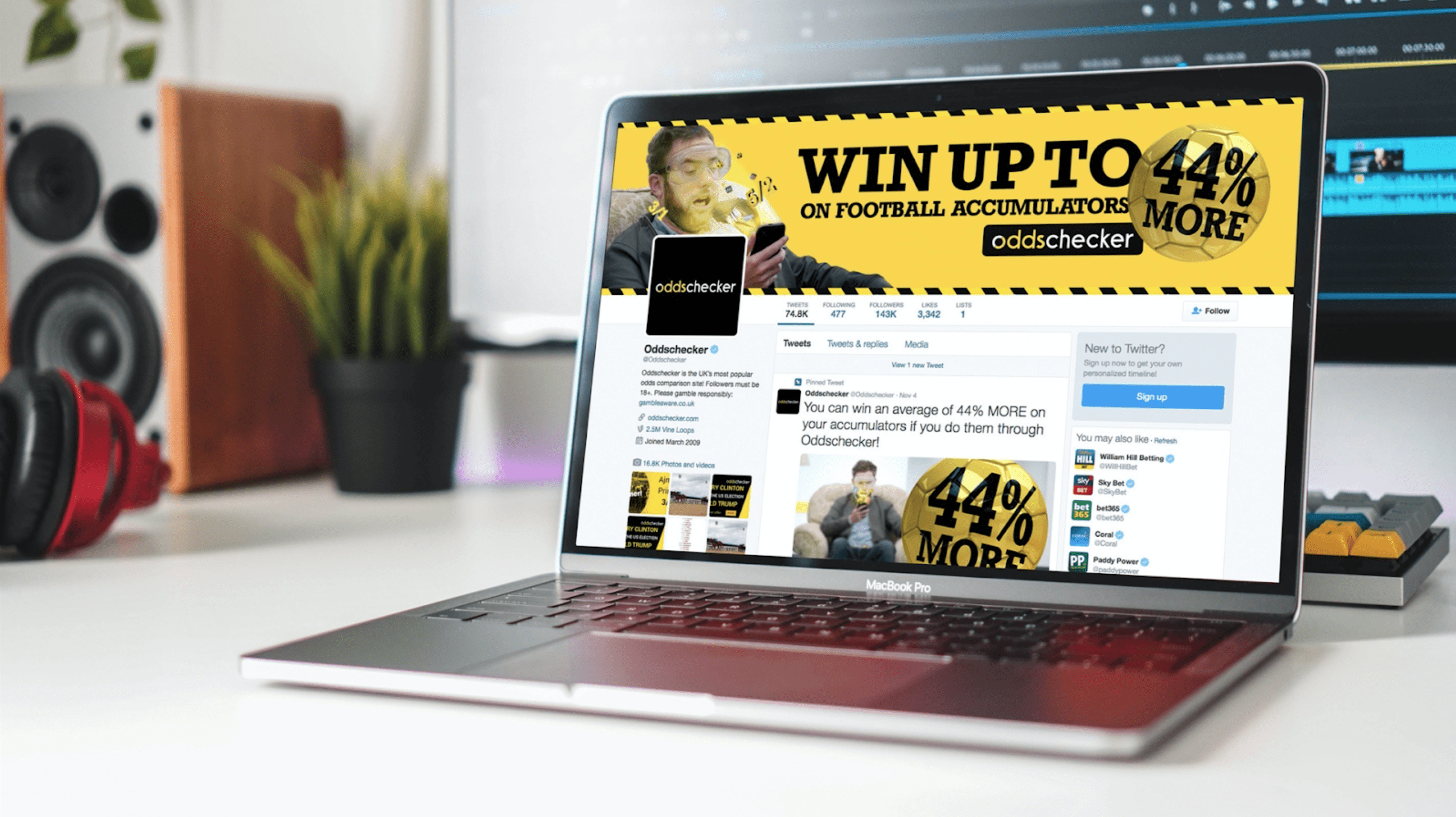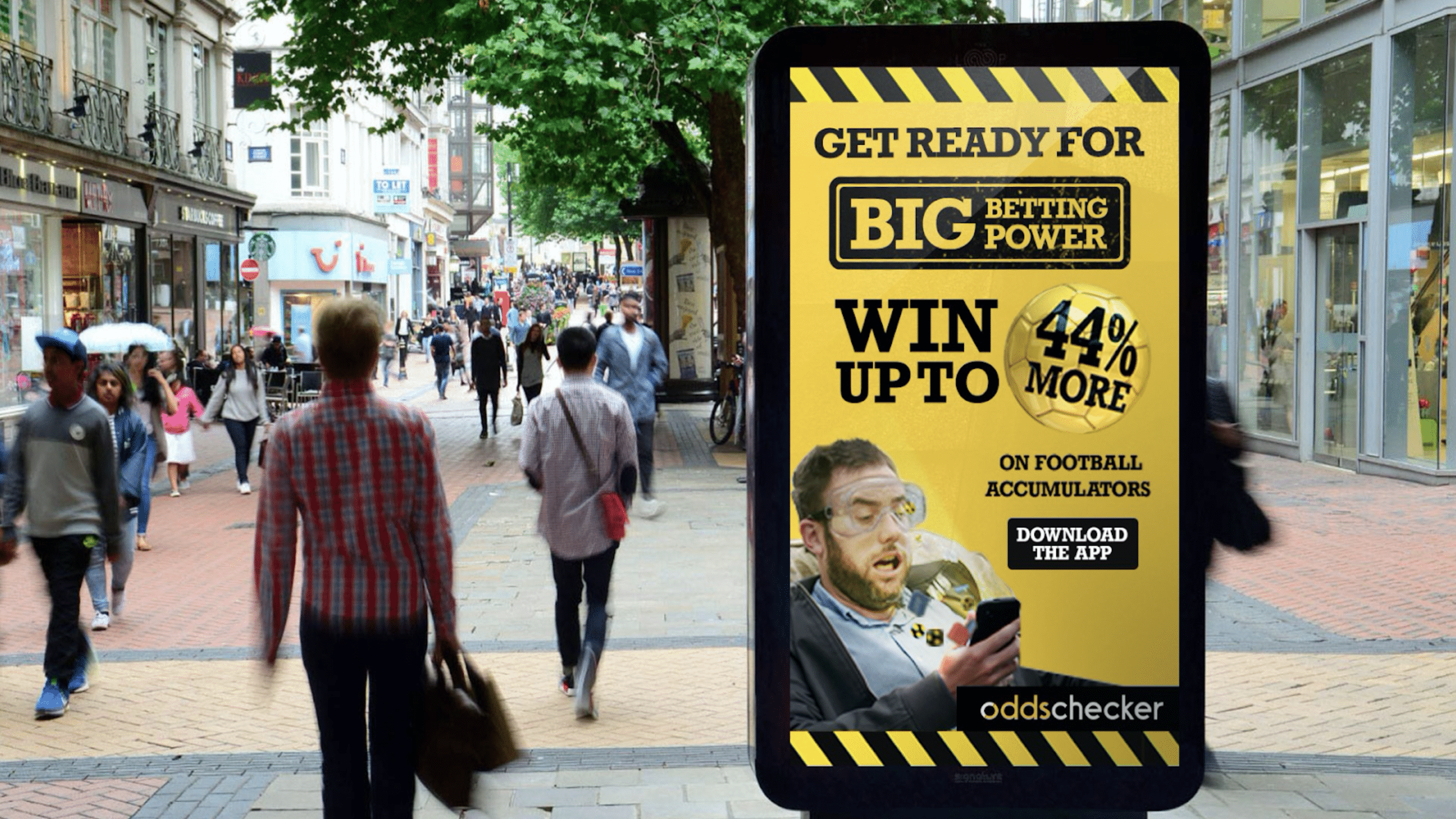 In this ad, we get to meet our new hero Craig, who experiences the power of the app in the safe setting of the Oddschecker Testing Lab. To visualise the huge array of odds available throughout the app, we wanted the see the test subject bombarded by offers, hurtling towards him, and bouncing off his face. He's blown away by the great power of the app!
This scene needed to have impact, so we tracked down the most powerful leaf blower we could find, and did a bit of testing in our studio.
With quite a lot of nervous energy, a strong pair of safety goggles, and a lot of laughs – we cranked the leaf blower up to 11 and strapped in for a great bit of R&D. Similar to the thrills of dog hanging out of an open car window, but with a lot less grace, we felt what it's like to have your face blasted with cold air at 200mph!
A couple of much needed glasses of water later, with a little less force and more directional movement, we were able to get a nice balance of power and in camera facial movement. With the actors face we wanted to have a sense of control and for it not being too manic, with hair flowing nicely and teeth where they should be.
We also tested filming at different frame rates which allowed us to get a nice balance of smooth motion without a Hollywood camera set up.
Before we jumped into the green screen studio, our environments were all designed, so we knew how the testing lab would look. A simplistic but modern feel was required, that set the tone perfectly for our testing lab.
Our actor gave a great performance, starting a little nervous as they are unaware what they are about to face, to the elation of finding out what Oddschecker can offer them. And with no dialogue, their performance was key to this ad.
To add elements of personality, our scientists take a little step back from the subject before the testing commences, and high five in celebration to the end of the optimistic test.
With a slightly cheeky yet authoritative Voice Over, powerful music track, and an excellent audio design from 750mph, this advert comes together wonderfully.
This was a great project to be involved in from ideation to delivery, with a lot of fun challenges along the way, creating a very effective and playful end result.
Watch the breakdown of the TV advert here: