We know that time is money, that's why we take a collaborative and nimble approach so your budget goes to the work and not on meetings. Our smart processes and in-house teams allow creative collaboration at all times allowing key stakeholders to feed in at the right times, this keeps us agile & enables our team to provide the best solutions for your campaign and create at speed, scheduling resources at the right time to safeguard your budget. We truly pride ourselves on our adaptability – with our best in-class technology and processes (FOTW Anywhere) we can plug our team directly into your office to make sure we are working right next to you or, plug any of our skilled designers from anywhere in the world with our remote work set up to make sure we are working with you at anytime and at peak times of the campaign.
We know you want to be challenged but we also know it's equally as imported to feel supported. There are plenty of different ways to tackle any problem and we are here to help our clients make choices that we know will guarantee success.
Our collaborative ways of working
We work

3 ways

: which we simply define as

our ABC approach:
Full Creative:
Let us generate the ideas for you and take you through a creative journey of scripts, illustrations, storyboards, through to production and delivery.
Collaborative:
Got an idea? Tell us about it and we can help embellish it with you.
Production:
If you have a storyboard then we can bring it to life with live action and/or CGI and 3d motion design.
Our 3 Stage Process (

3SP™)
The 3 Stage Process (3SP™) is our 3 part production process that helps navigate from creative brief to channel delivery at speed. It's simple, effective and our secret to successful projects. We've spent years crafting the art of making direct response ads, our best practices and our 5 guiding principles are core to everything that we do.
Our 3SP™ is governed by 5 guiding principles.
Our 3SP™ is wrapped around by our Phased approach. This approach allows us to work collaboratively with our clients, ensuring they understand the process and are with us every step of the way from brief to delivery. This allows them to see and feed into concepts, storyboard through to Pre-Vis, rough cut and final edit. The process allows clients to make the right decisions at the right time, keeping the project on track and on budget. 
1.
Promote creative collaboration at all times and at the right times.
2.
Ask for regular constructive feedback from all stakeholders.
3.
Prototype fast and look to improve throughout the production.
4.
Keeping flexible, agile and adapting to each individual project.
5.
Make early and best use of our close relationships with other agencies (brand) and Clearcast (legals)
Flexible TV Advertising – Our Modular Approach
Our modular approach allows us to build adverts so that they can be easily re-versioned and developed, offering better value for money and volume whilst maintaining a high level of creativity and production output. While we don't think there should be a set content structure to DRTV ads, we do like to apply a modular approach. This allows for easy refreshes and updates and as we've not had to start from scratch by simply changing the messaging & updating the VO, we've created a new campaign output in a short time frame at a low cost, generating some serious bang-for-your-buck. The same can be applied to the product USPs, or the specific offers.
An example of our modular construct in action…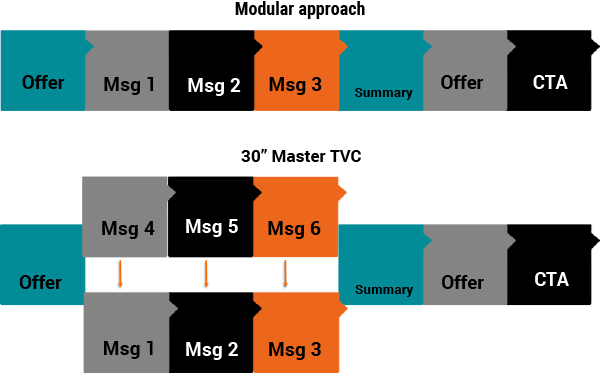 DOWNLOAD our
10 point best practice guide

to find out how you can get the most out of your next TV advertising campaign…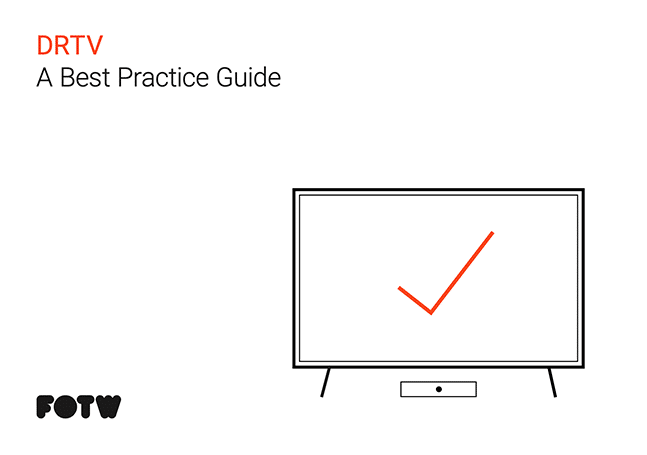 By submitting this form you are agreeing to our privacy policy and agree to be contacted for marketing purposes.