With a plethora of digital marketing channels available and more popping up all the time, it can be easy to overlook more 'traditional' methods such as TV advertising. As consumers, we're being hit from every direction with advertising, making it impossible to react to or even acknowledge everything we're seeing.
So why is TV the perfect way to cut through this noise?
Time and time again, studies have found that TV is the most trustworthy method of advertising, that also has the power to have the largest impact on sales.
A study by Professor Karen Nelson-Field from Amplified Intelligence found that across multiple channels (TV, BVOD, Youtube, Instagram and Facebook), TV and BVOD came out on top with regards to short-term advertising strength – whether viewers would buy the product after seeing it advertised. It was also found that the duration of the impact of a TV advert was far longer than YouTube and Facebook, with the impact still being felt by consumers up to 28 days after viewing an ad.
So with the impact of TV ads on your ROI proven, let's look at a few more reasons why you shouldn't be so quick to dismiss it!
Broadcast TV is still massive
Contrary to what many might be thinking, traditional broadcast television is still a massive part of most consumer's lives. These channels have the ability to be in every person's house for free, and are the top choice for many for their morning and evening viewing. According to data from Thinkbox, broadcast TV makes up 68% of the average person's day in video – beating all online content, Youtube and Facebook.
The fact that your adverts will be shown 'live' is a benefit; consumers will already be relaxed on their sofas and engaged in their viewing, with no option to fast forward, skip or scroll away from your campaign. This makes broadcast TV a great advertising choice for big brand awareness campaigns that are focused on large audiences across the country – it's a great way to let consumers know about a new product or service. The trusted nature of TV will help to strengthen the perception of your brand, and will encourage and reassure consumers that your brand is the right choice.
Brands big and small
If you think only big brands are able to advertise on TV, you would be wrong. It's become an affordable and cost effective marketing channel, with new targeting options meaning you get even more bang for your buck. In 2019, a total of 837 new brands advertised on TV, with over 600 of these spending under 20k for their campaigns.
2019 also saw online businesses become the biggest investors in TV advertising, with brands such as Xero, Bulb and Klarna leading the way in the U.K, to name a few! They're using TV to build their image; using direct-response techniques to make the most of viewers having their mobiles at their fingertips meaning their ads can be responded to in real time.
TV is trustworthy
According to Thinkbox, TV is considered to be the most trustworthy advertising channel. If you see something shown on TV, you know that there will be millions of other people also seeing it, and you trust that it has been created and verified by professionals.
There are no scandals like there are with online advertising over inappropriate ad placements, or queries into data privacy – TV advertising is incredibly well regulated and is held to a much higher standard, and viewers know this. Being seen on TV will give your brand a badge of credibility, which is why so many online businesses are currently flocking to be seen there!
TV has adapted to the digital age
TV viewing habits have changed massively over time, with the rise of digital devices revolutionising the way we communicate and interact with brands. The customer journey for most brands will therefore have also changed.
People are now watching TV differently – people are streaming now more than ever, and watching TV on multiple devices in their households, across multiple networks and on demand services. This change in behaviour creates new opportunities for advertising, a major benefit to this being your campaigns can be more targeted than ever before.
In an ideal world, your TV and digital campaigns should work together in tandem for maximum results. You can make the most of your TV assets by using them in the digital space, giving your campaign consistency and reach. This is a cost effective way to make the most of your filming or use of assets, but you should never just reformat the original ad – viewing habits on mobile and digital devices are dramatically different so you need to make sure you're taking each platform's best practise into account.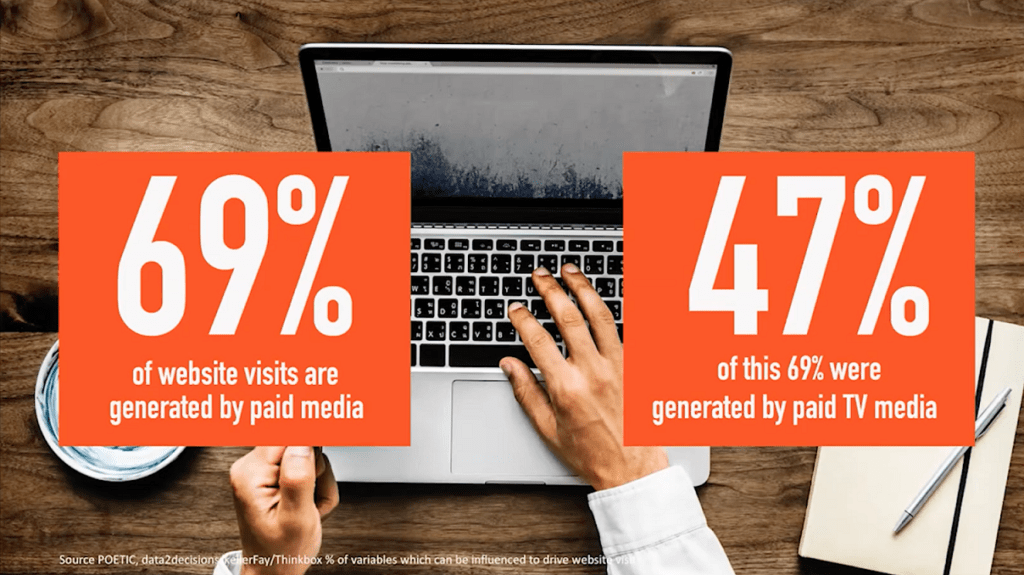 According to Thinkbox, 69% of web visits are generated by paid media, and a staggering 47% of that is generated by paid TV. Traditionally, TV can be one of the hardest channels to track and attribute sales to. You can see the spikes on the website views after your ad has been broadcast, but it's not as clear as a direct click through that you would see on a digital ad. Also, you could consider that a consumer may be clicking through on the digital ad because they recognise the campaign from TV.
The relationship between TV and online is becoming closer and will continue to do so. It's a relationship that can really amplify your campaigns to achieve maximum results.
Creativity sells
Recently, we have seen more and more brands putting out ads that are a mix of the direct and brand response. These are hard-hitting, entertaining, creative ads that still manage to present the benefits of their products.
We have so much choice as to what we watch now, that everything needs to work harder. Consumers are less likely than ever to stick around to watch something that doesn't interest them, so we should be rewarding the viewer for giving us their attention – with entertainment or humour. We should be elevating our ads to achieve the balance between big creative ideas and a hard working sales message.
In 'The link between creativity & effectiveness', Peter Field explains that creative campaigns will increase your brand's market share. Those that are the most creative,
can be up to 12 times more efficient.
Videos that are able to emotionally connect to an audience are far more likely to engage and drive a response than those that don't. If you have a story, your ad is more likely to be watched to the end, achieving a greater response to your call to action – building your brand and selling your product. An emotive campaign has the ability to turn your brand into a household name, with TV being the medium people talk about the advertising they've seen on it the most.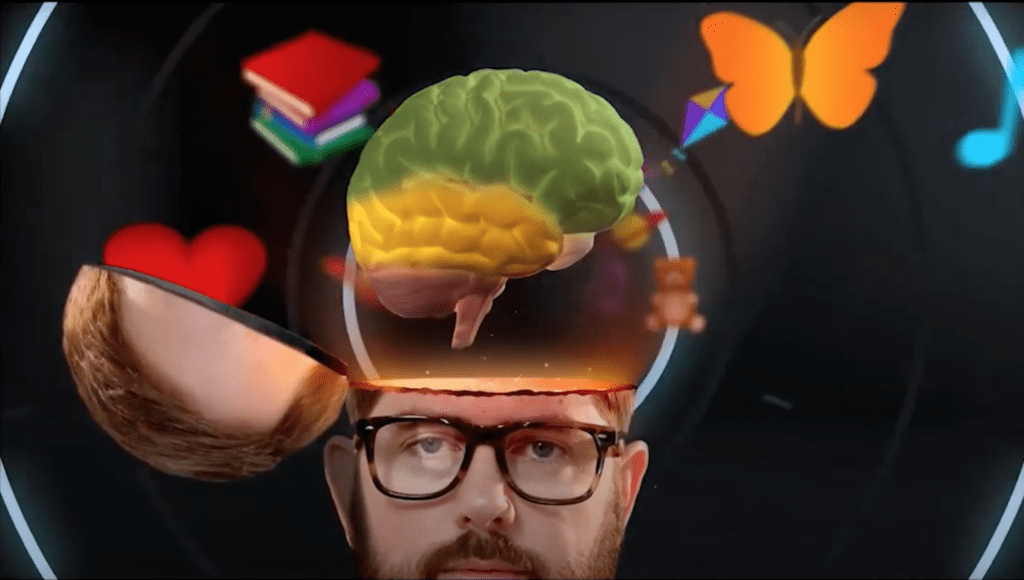 In our opinion, TV should be the beating heart of your online and offline campaign, with the creative holding the power to engage with the consumer. It's a platform that has grown up and got smarter with us, and is still as relevant today as it always has been.

If you're looking to get started with DRTV or your next TV campaign, send us an email to
hello@falloffthewall.com
–
We'd love to have a chat!